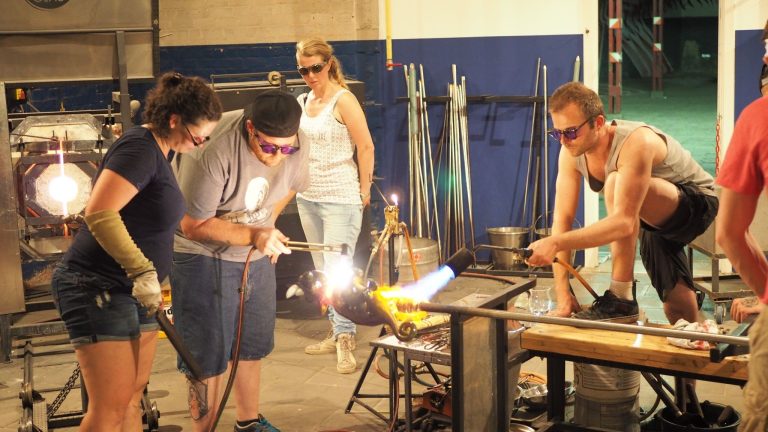 FRIDAY NIGHT LIVE. Teamwork at Gent Glas. Photo: Evert Van Laere
Art is a celebration of the human spirit, where imagination and creativity meet to produce something truly magical. It's a powerful tool for expressing ideas, philosophies, and attitudes about society and culture. And among the many mediums available, glass art stands out for its stunning beauty and intricate craftsmanship.
Mesmerizing the audiences with its allure, the craft of Glass Art holds a special place among artists. Glass, as an artistic medium, is very efficient and attractive. The crystalline finish, smooth texture, and translucency make it a perfect material for expressing an idea in an appealing manner. Being a glass artist requires not only unique skills but also the ability to bring one's imagination to life in a distinct way.
This art form is witnessing an uphill trend in popularity among practitioners and enthusiasts. If you are awe-struck by its appeal and aspire to master this craft, then this article is your concise yet ultimate guide for getting started in this field. Read below to discover the most significant points needed to prosper in this field.
Connect with the craft.
The first step is to connect with this field of art. Sometimes, what you see online or hear from other people attracts you. Due to peer pressure or a false attraction, people choose a field that doesn't align with their true selves.
Look out for any established artists conducting glass craft workshops. Enroll in hands-on practice workshops to ensure you are truly compatible and passionate about glass arts. It's important to try multiple workshops before making a decision, as some instructors may unintentionally make lessons boring.
Visit various glass art exhibitions and weigh your options according to your circumstances. Do not make a hasty decision to pursue glass arts as a profession or hobby.
Identify your expertise.
Once you've decided to become a professional glass artist, then identify a single glass art form to master. Glass arts have various forms; torchworking, blowing, casting, slumping, and so on. During training, you will learn most of these ways. However, it always pays to be outstanding at one of them. Yes, you should practice all the processes, but choose one form you can comfortably claim to work towards mastering.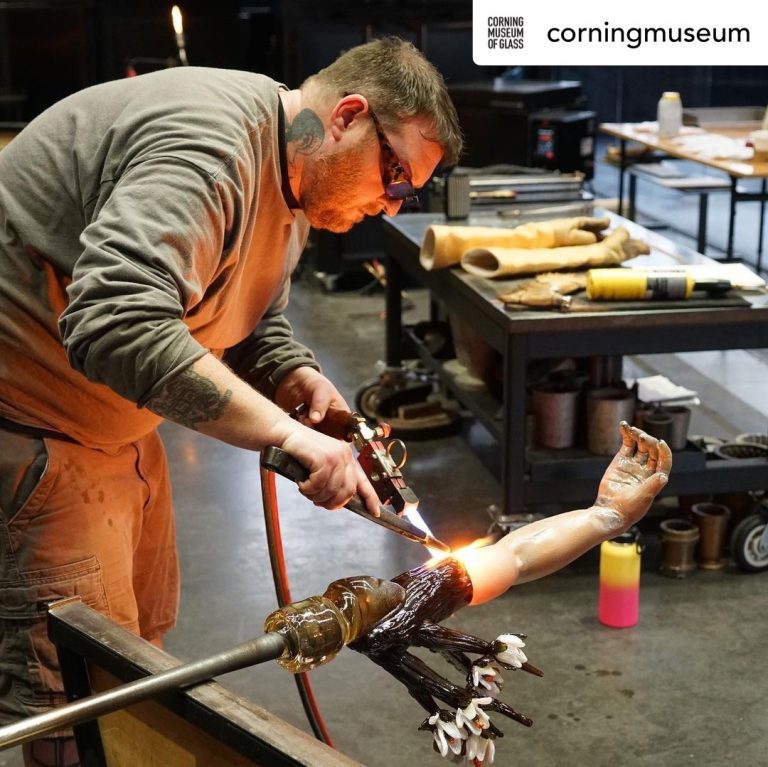 John Moran sculpting with hot glass. Photo Courtesy of the Corning Museum of Glass.
Hone your skill.
Once you've found the art form that matches you perfectly, spend your days and nights honing it. Practice makes perfect – the statement still holds, especially for crafts involving handiwork. Don't get lazy; never miss an opportunity to learn. Observe those who have already made a name in this field.
Never shy away from failure or hesitate to choose tricky builds. Failure is not the opposite of success; instead, it is an integral part of it. Go out of your comfort zone, connect with the community and share experiences. Networking will be your key to growing as a glass artist.
Find a motive.
A glass piece without expression of a motive is only half-done. Make this a rule. Whenever you make something, ask yourself,
Why do I want to make it?
What will my art piece impart?
When you build something, have a clear motive behind its making. Without it, you won't be able to express your feelings in your work. Your art piece should be "alive". It must speak to its audience, convey what you want, and leave a lasting impression. It is unachievable if your motivation for crafting is superficial.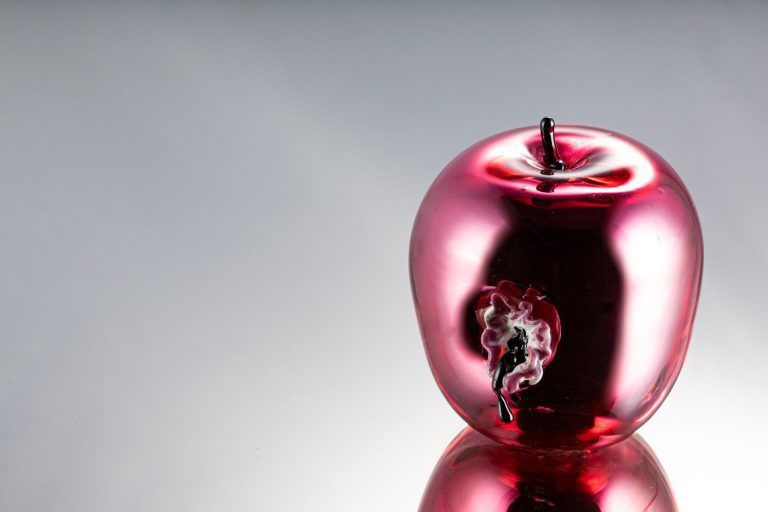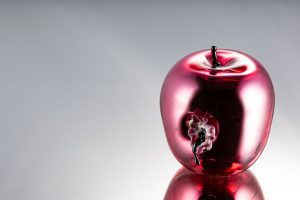 Armed for Knowledge. 2023. Wounded apples in support of teachers. Photo: Mike Van Cleven
Pay special attention to feedback.
Some inexperienced artists find a perfect motivation and theme for their build. Yet, they still remain unable to translate it practically. You cannot learn this ability overnight. In such a case, feedback can do wonders. How well your build communicates with its audience is something that the audience can better relay. Thus, always welcome feedback and criticism.
Ask people to make honest opinions regarding your creation. Note down all feedback and ponder over it. The only method that can help you become an expert in translating your imagination into reality is trial and error, with feedback being the main component of it.
Stay persistent.
Lastly, be persistent. Do not expect quick gains. Do not expect a smooth career, and do not expect a stable income channel right from the start. Like all other careers, glass arts require its practitioner to remain steadfast. If this is your passion and dream, don't let any hardships stop you from chasing it.
Glass arts is an infinitely creative field. Success in this career is directly proportional to skill, expression, and creativity. The more you hone them, the better your chances of attaining the top spot in this industry will be. If you keep grinding, be unrelenting, and remain focused, ideal success will surely be your reward.